Applications invited for the ASN Jasper Loftus-Hills Young Investigator's Awards
Posted on
A Message from the Committee Chair, Jeremy Fox
The American Society of Naturalists invites applications for the Jasper Loftus-Hills Young Investigators Award. This year I have the honor of chairing the ASN YIA committee, along with Luke Harmon, Janneke Hille Ris Lambers, and Renee Duckworth. I think it's great that ASN honors not just one but four outstanding young investigators from across ecology, evolution, behavior, and genetics.
The official announcement for award nominations is copied below, but I wanted to start out with some personal reflections on the recent applicant pool and award winners, along with a specific plea to encourage more topical diversity in our applicants.
Every year's applicant pool is truly outstanding, and in many respects it's an admirably diverse pool. I'm particularly glad about the high gender diversity of both the applicant pool and the award winners in recent years. But recent applicant pools have featured a predominance of evolutionary work (particularly on sexual selection and sexual conflict), and a relative paucity of ecology. Ideally, we'd like the applicant pool to include people working on the full range of topics of interest to ASN members. So without wanting to discourage applications from those working in areas traditionally well-represented in the applicant pool, let me emphasize that we welcome and encourage applicants working in any area of ecology, evolution, behavioral ecology, or genetics. The YIA committee is a broad-minded group that includes significant ecological expertise. All applicants from every field will be given full consideration.
Let me emphasize as well that the committee doesn't favor applicants at a particular career stage, we don't disfavor applicants who've applied before, and we don't base our decisions on quantitative metrics. You can apply as soon as you are eligible and for as long as you are eligible, and we encourage you to do so. You'll be considered fully even if you're still in graduate school or only recently finished your Ph.D. Not all past awardees were in their final year of eligibility. And the committee will evaluate your application holistically and consider your scientific work on its merits, rather than by just counting your publications, or looking at your h-index, or etc.
Looking forward to receiving your applications. If you have any questions, please feel free to email me (jefox@ucalgary.ca). Below is the official call for applications.
---
Official Announcement
The Jasper Loftus-Hill Young Investigator's Award of the American Society of Naturalists honors outstanding promise and accomplishments of young investigators who conduct integrative work in the fields of Ecology, Evolutionary Biology, Behavioral Ecology and Genetics. Applicants working in any of these fields are encouraged to apply.
The award honors outstanding promise and accomplishments of young investigators (3 years post-Ph.D., or in the final year of their Ph.D.) who conduct integrative work in ecology, evolution, behavioral ecology, and genetics. The award was established in 1984 to recognize exceptional work by investigators who received their doctorates in the three years preceding the application deadline, or who are in their final year of graduate school. The award commemorates Jasper Loftus-Hills (1946-1974), an Australian biologist of exceptional promise who was killed during the course of fieldwork three years after receiving his degree.
Winners of this award will present a research paper in the Young Investigator's Symposium at the ASN annual meeting and receive a $500 prize, a travel allowance of $700, cost of registration for the meetings, and a supplement of $500 in case of intercontinental travel. Four awards are made annually. Recipients need not be members of the Society.
The prize committee encourages direct applications and welcomes suggestions of people who should be encouraged to apply. Applications should consist of no more than three pages that summarize the applicant's work (excluding tables, figures, and references), no more than four appropriate reprints, and a CV combined as a single pdf. Two letters from individuals familiar with the applicant's work should be sent separately. All application materials should be sent via e-mail by January 1, 2018, to Jeremy Fox (jefox@ucalgary.ca). Please indicate "Young Investigators' Award" in the subject line, and for reference letters, the name of the applicant.
---
Jasper Loftus-Hills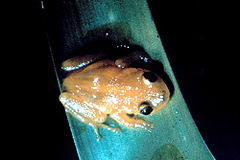 Jasper Loftus-Hills (1946-1974) was an Australian biologist of exceptional promise who lost his life doing fieldwork recording frog calls in Texas, three years after receiving his degree from the University of Melbourne.
An obituary appeared in Copeia: in 1974 (Alexander, Richard D. "Jasper Loftus-Hills." Copeia 1974:812-13).
The Golden Coqui (in the photo above) was discovered on Puerto Rico by George E. Drewry, Kirkland L. Jones, Julia R. Clark, and Jasper J. Loftus-Hills. They had planned to name the species for its color, but when Loftus-Hills was killed in 1974, his colleagues chose instead to name it in his honor:
A further description of Jasper Loftus-Hills appeared in Copeia 2015 (103:467-475), which is a retrospective on his mentor, Murray John Littlejohn (doi: http://dx.doi.org/10.1643/OT-15-274)
The most gifted graduate student Murray ever worked with (in his own estimation) was Jasper Loftus-Hills, whose Ph.D. thesis "Auditory function and acoustic communication in anuran amphibians" was completed in 1971. Jasper followed in Murray's footsteps to Austin and then went on to Cornell University and the University of Michigan. He was tragically killed by a hit-and-run driver while doing night fieldwork on Gastrophryne in Texas in 1974. The 1992 Gastrophryne paper coauthored by Jasper and Murray is a lucid analysis of the state of the art in character displacement and reinforcement, two terms burdened with a long history of confusion. (

Loftus-Hills, J. J., and M. J. Littlejohn.

1992

.

Reinforcement and reproductive character displacement inGastrophryne carolinensis and G. olivacea (Anura: Microhylidae): a re-evaluation

.

Evolution

46:

896

–

906

.