Nominations for the 2017 Sewall Wright Award, Due January 1
Posted on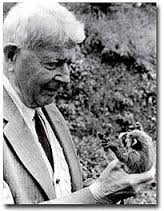 The Sewall Wright Award was established in 1991 for a senior but highly active investigator who is making fundamental contributions to the Society's goals in promoting the conceptual unification of the natural biological sciences. The award includes an honorarium of $1,000. The recipient need not be a member of the Society.
The ASN strongly encourages its members to submit nominations of deserving people. Nominations will be held over for two years.
The names of former recipients can be found here: http://www.amnat.org/awards.html#Wright
For the 2017 Sewall Wright Award, the nomination should consiste of a letter with a brief description of why the nominee is deserving of the award. Please send all nominations by January 1, 2017, to Elizabeth Adkins-Regan (er12@cornell.edu). Please indicate "Sewall Wright Award" in the subject line.